A well-tailored resume is an important prerequisite that could influence a consultant's career in international development. So, how and what exactly helps your CV stand out, and which resume formats should be used in various circumstances? You are about to get closer to understanding these crucial points in a series of articles written by DevelopmentAid Recruitment Solutions about the different types of CVs for donor-funded projects.
The majority of the experts we have helped who are involved in both short- or long-term projects have always had at least one CV that has been tailored to a particular format which is generally accepted by a specific donor that they want to cooperate with – the EuropeAid format is one of these.
The European Commission, as a body, is the biggest donor to the international aid sector contributing more than 50 billion euros of aid per year which is disbursed for various development projects and contracting experts and consultants. For the technical proposals of tenders funded through the European Commission (and which is also generally accepted for tenders with other EU agencies), the correct format we suggest your CV adopts would be the EuropeAid one.
The beauty of this is that the information is presented in a very reader-friendly and well-structured manner. Nonetheless, you should note certain important details which we are happy to share with you along with some tips on how to complete your CV in the best possible way.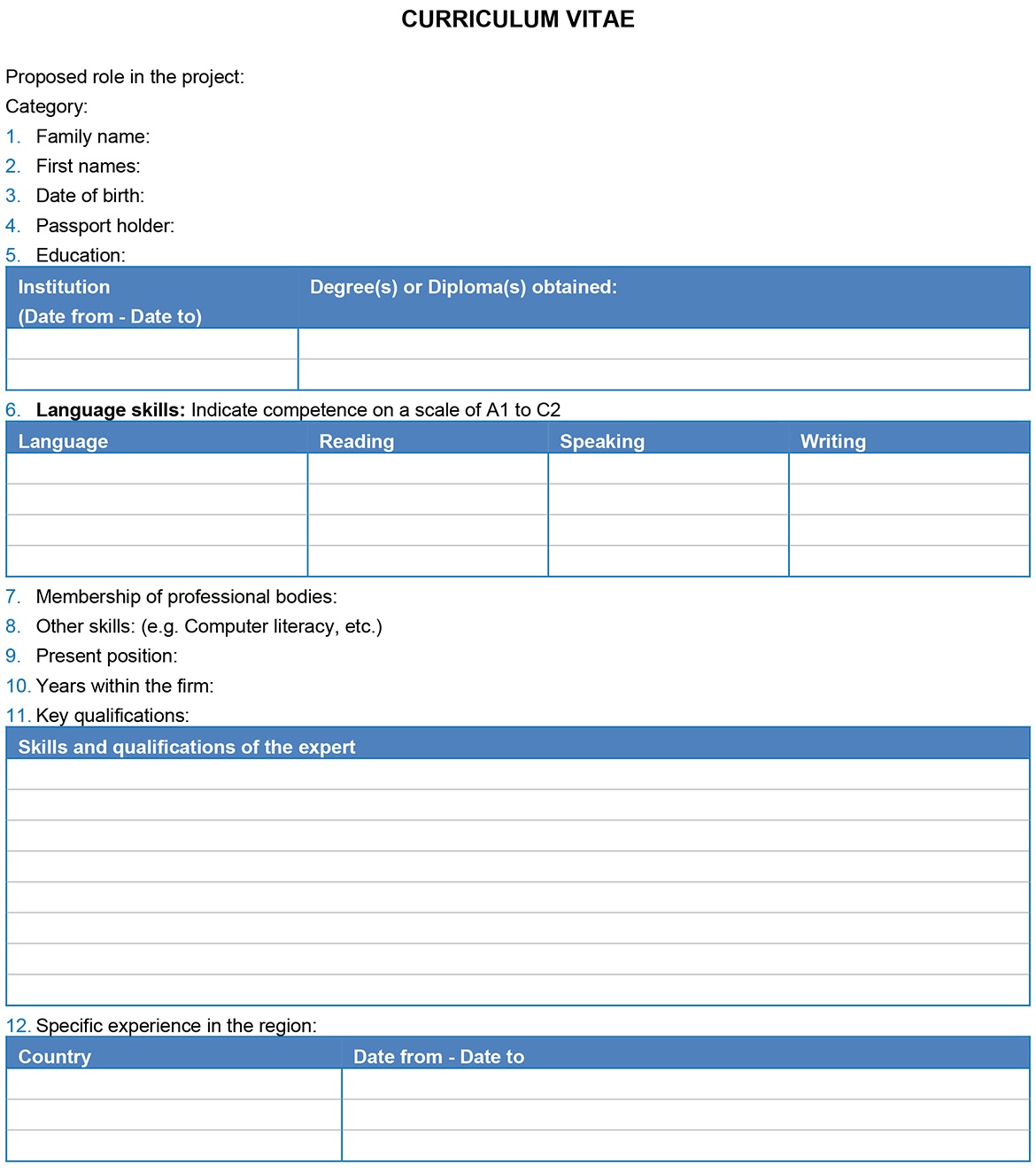 DRS recommendations to tailor your CV to the EuropeAid format structure
Section 1: Family name(s) – Usually written in capital letters
Section 2: First name(s)
Section 3: Date of birth
Section 4: Passport holder – Include only the information related to citizenship
Section 5: Education – Bachelor's, Master's, and PhD
Section 6: Language skills – (C2-excellent; A1-basic)
Section 7: Membership of professional bodies
Section 8: Other skills – Only include secondary skills such as knowledge of computer software, programming languages, internet, design, accounting, statistical tools, or any other application you are competent in.
Section 9: Present position – There is no need to provide a detailed description of the tasks and achievements as in Section 13. Instead, simply specify the position title, the company name and location OR the independent consultant (if applicable).
Section 10: Years with the firm
Section 11: Key qualifications – Summarize how your expertise meets the requirements, justifying your experience with the skills and qualifications requested for the position. Keep this as brief as possible (1-2 lines per each qualification) and you could also make a reference to the projects from Table 13.
Section 12: Specific experience in the region – List only the country name and the months and years of your work in that country, mentioned in the following section 13.
Section 13: Professional experience – This section, which is placed horizontally (use a section break for this), should contain all your professional experiences in chronological order starting with the most recent and ideally you should also provide a reference contact name and telephone or email. It is important to distinguish the contracting company that you were officially employed by and the donor for the mission. You could emphasize the donor again in the Description sub-section with complete details of the project name, budget size, the activities you performed, and the objectives achieved.
Section 14: Other relevant information – Feel free to add info about your articles, publications, additional training, conferences, or awards.
Tips and tricks on tailoring EuropeAid format CV
In terms of fonts, use Arial 10 for your EC resume. Avoid the use of different colors, photos, shapes, pictures, different font sizes, and font types in your CV. This is not well perceived by recruiters. In the development sector, the content of a resume is more important than its design. Therefore, focus on the quality of the content.
Another important aspect that we invite you to take into consideration when working on your EuropeAid CV, is its length! Sometimes there are cases of extreme limits for the length of the CV – for example, according to EC-funded tender specifications, the technical proposal of a consulting company should include CVs of key experts and the length of each should not exceed 3 pages maximum.
Let's imagine that this is a CV for the Team Leader who has +35 years of experience. Obviously, it will take more than 3 pages to fit in all the information. Will the extra pages be considered by evaluators? Not really. Therefore, it is crucial to have a well-tailored generic CV covering all aspects of your experience which can be adjusted according to a particular profile requirement that you would like to be selected for.
If this is what you were trying to compile for a long time but were too busy to do, we can handle it. Your dedicated Career Advisor will help you manage your perfect CV!
Original article by Anastasia Bahu - https://www.developmentaid.org/news-stream/post/148815/your-cv-for-donor-funded-projects-europeaid-format