When applying for a key expert position in a donor-funded project, it is very important to have a well-tailored CV that matches the requirements of the profile. However, often this is not enough because major donors, such as the EC, the ADB, the World Bank, and the UN, prefer to work with their own specific formats and disregard applications that do not match these.
The World Bank is an international financial institution (IFI) that provides loans and grants to the governments of low- and middle-income countries for the purpose of pursuing capital projects, aiming to fight poverty.
The World Bank CV format is used for applications from companies bidding for a WB-funded project or for individual applications for jobs in NGOs/companies that receive WB funding.
The main sections presented in the EuropeAid format, which we described in our previous article, also feature in the WB format: Name of expert, date of birth, and country of citizenship/residence.
In the Education section, college/university or other specialized education should be listed, giving the names of educational institutions, dates attended, and the degree(s)/diploma(s) obtained.
The Employment record relevant to the assignment should begin with your current position and list all your assignments in reverse chronological order. Provide dates, the name of the employing organization, the titles of positions held, the types of activities undertaken, and the location of the assignment together with contact information for previous clients and employing organization(s) who can be contacted for references.
Employment that is not relevant to the assignment does not need to be included!
This section is followed by the Membership in Professional Associations and Publications section and Language Skills – indicate only the languages in which you can work.
What makes this format different from others is the Adequacy for the Assignment section where you should list all the tasks in which you will be involved and exemplify prior assignments that best illustrate your capability to handle these designated duties. There is no need to write detailed information about relevant projects/assignments – simply include brief details such as the project name, your role and capacity in it, and the relevant dates.
Contact details should be included at the end followed by the Certification section that needs to be dated and signed by the candidate.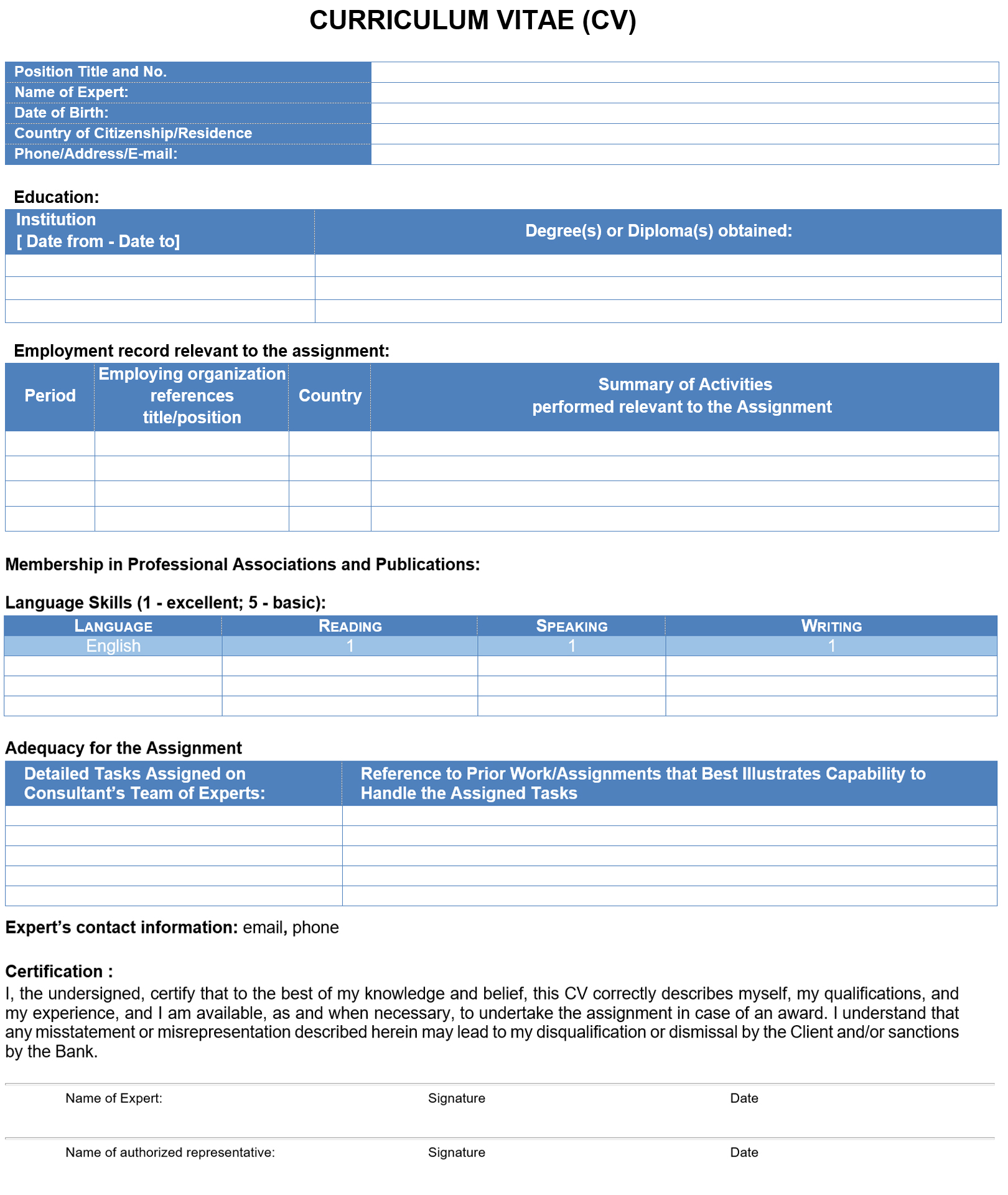 worl
Formatting tips for World Bank CV template
Details matter – this is the thing you should remember. This is why we suggest you follow a few rules:
In terms of fonts, use Arial, Calibri, or Cambria, size 9 or 10.
Avoid the use of different colors, photos, shapes, pictures, font sizes, and font types in your CV, as these will not be well received by recruiters. You can include hobbies in your CV for private sector jobs but, for donor-funded assignments, this information is irrelevant because the focus is on your technical experience. Thus, our advice is to place an emphasis on content!
If we consider WB CV customization for a particular sector, while there is no difference in formatting, it is sector-specific terminology and the use of keywords that should be highlighted.
If you are struggling to create a CV in the WB format, the professional DevelopmentAid Recruitment Solutions CV Tailoring service can help you. Get in touch with your personal Career Advisor for more details about this!