Since the second half of the 20th century, NGOs have had an increased role in international development, particularly in humanitarian assistance and poverty alleviation.
However, small local NGOs worldwide, estimated at ten million, often miss out on opportunities due to their shoestring budgets, limiting their access to information.
Most NGOs have one thing in common. They all depend on quick access to grant opportunities, which enable them to obtain the funds and resources required to provide goods and services to the people in need and conduct programs and activities to further the social goals of their members.
For the past 15 years, DevelopmentAid has been a trusted source for essential information, recruitment tools, and access to published tenders for organizations involved in the international development sector, including donor agencies, multilateral organizations, businesses, and NGOs.
"We now aim to help small local NGOs achieve their goals through a dedicated Grants Membership plan, which gives access to up-to-date information about grants, donors and time-saving tools."
What's Included in the Grants Membership plan?
For an affordable yearly cost of €150, your NGO can access the world's largest database of grants available in the international development sector.
DevelopmentAid user-friendly search tool allows you to find the right grant for your organization using filters such as location, sector, budget, funding agency, or even keyword search.
Advanced Filters

Grants Database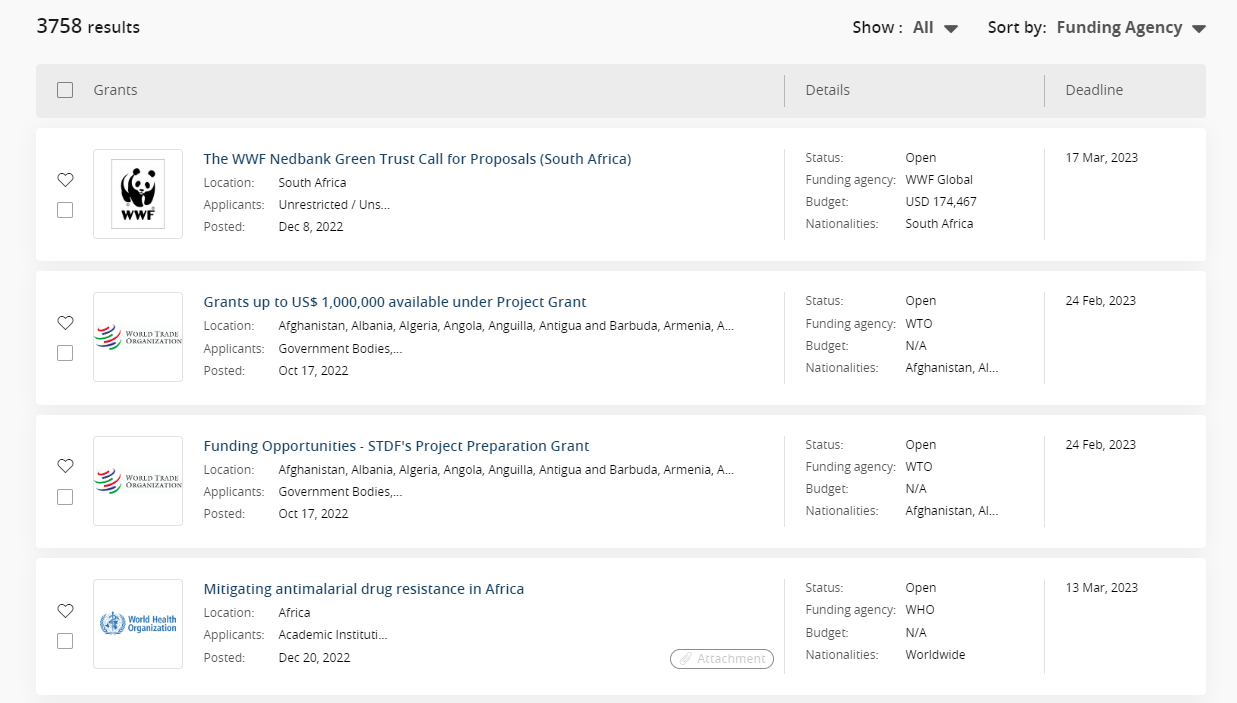 The Grants Membership includes advanced features such as saving your searches, customizing email grant alerts (so you'll be notified once new grants are posted. Alerts frequency can be customized to be sent daily, twice a week, weekly, etc.), and creating folders to manage your grant-seeking activities efficiently. When you find a grant that potentially matches your organization's needs, all the necessary information, including the grant provider and information about their procurement and eligibility guidelines, is readily available at your fingertips.
Customized Grant Alert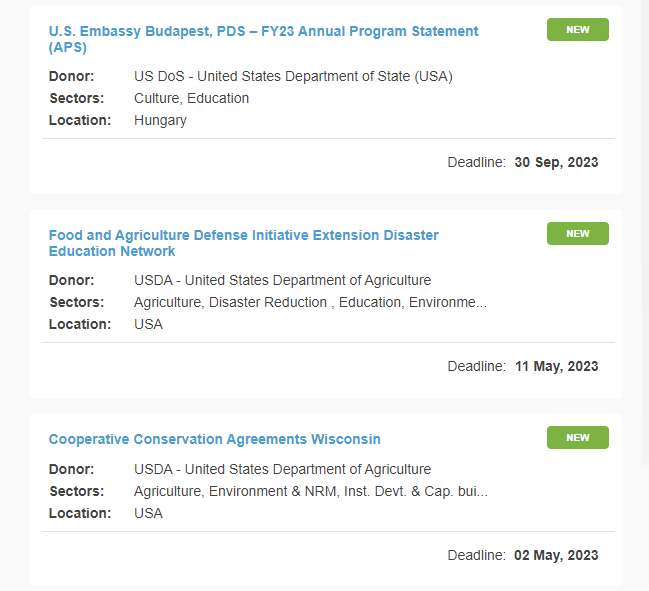 Which NGOs are Eligible for a Grants Membership?
The "Grants" membership plan gives small local NGOs with up to ten employees special access to DevelopmentAid's grants database. Instead of combing dozens of websites to find funding opportunities, you can quickly identify and apply for available grants that match your organization's financial needs and operational capacity (typically with a value of €50,000).
If your NGO counts more than 10 employees, or you would like to access grants with more significant value or other information or services available on our platform, contact our business development unit at membership@developmentaid.org to discover the best solution to meet your needs.
How to Sign Up for Grants Membership?
As you know, the constant struggle to procure funding can make or break a small NGO, so our Grants Membership plan is designed to help local organizations like yours quickly and easily find a reliable source of financing so that you can continue your outstanding work in making the world a better place.
To learn more about the Grants Membership plan or verify your organization's eligibility, please contact us at grants@developmentaid.org.